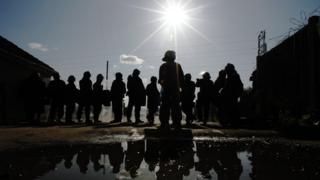 Ugly scenes at Dale Farm eviction
There were violent scenes on Wednesday as police and protesters clashed at the Dale Farm travellers site in Essex.
Riot police arrived at the site early in the morning to begin evicting people who have been living in part of the site illegally.
Fires broke out and bricks were thrown at police, as they broke down a fence to get in at the back of the site.
Police have arrested seven people and are trying to remove protesters from a scaffolding tower at the entrance.