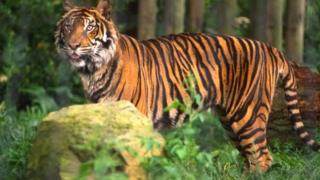 Dozens of dangerous animals including lions, tigers, cheetahs, bears and wolves escaped from their cages at a private zoo in America.
Their enclosures were left open and the zoo owner was found dead at the scene.
The animals are extremely dangerous and the police in the state of Ohio, in the north-eastern US are searching for them over a large area.
The police have told people to stay indoors until they have found them all, but only three are still on the loose.
Some of the animals had to be shot to protect people, but others have been stunned using tranquillizers.