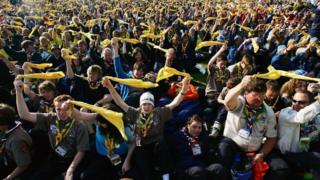 Getty Images
Scouts across the country will dedicate a whole week to helping their local communities next year.
The Scout Association is to launch Scout Community Week from 14-20 May next year, encouraging its members to volunteer in their home town or village.
Members of the public will be able to contact their local Scouts to suggest community projects.
It is estimated that up to 400,000 young people will be involved.
The event is something that the Scout Association used to do ever year, but it has not been done on this scale for nearly two decades.
The previous campaign was called 'bob-a-job week', where members of the public would pay five pence in exchange for Scouts doing jobs for them.
Adventurer and UK Chief Scout Bear Grylls , said volunteering was "at the very heart of scouting".
"All Scouts promise to help other people and there is no better way of showing this than getting involved in your community," he said.