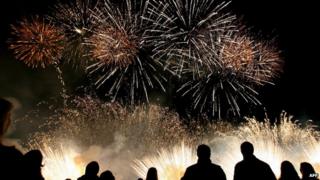 AFP
Firework displays are loads of fun, but fireworks can be really dangerous if you don't use them properly. Here's our guide on how to stay safe around fireworks.
Firework safety
Every year on Bonfire Night there are hundreds of accidents across the UK, and lots of them happen to children.
Fireworks can be very dangerous and that's why safety is the most important thing when it comes to having a display.
The Royal Society for the Prevention of Accidents (RoSPA) say adults should deal with fireworks and that children should watch from a safe distance.
Pets often get very frightened by fireworks, so watch out for them too. You might want to keep all your pets indoors and close all the curtains.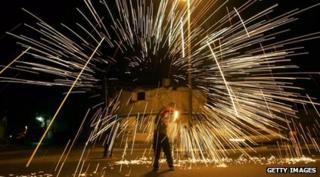 Getty Images
Sparkler safety
Never

put them in your pocket

Never

pick one up off the floor

Make sure an adult is always present

Light them one at a time

Wear gloves

Hold them at arm's length

When it goes out, put the hot end in a bucket of water. Otherwise it could still burn you.