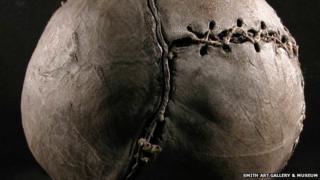 Other
It's looks as though Britons have been enjoying a good game of footy for centuries.
Documents that have been discovered suggest the game was not just played in the street, but also in Royal castle courtyards, over 500 years ago.
They show King James IV paid two shillings for a bag of "fut ballis" way back in 1497.
The world's oldest surviving football has been dated back to 1540.
It was discovered behind wooden panels in Stirling Castle in Scotland.
All this makes the beautiful game, not just beautiful, but rather old too.
The Scottish Football Museum suggests that football has evolved over the ages, and wasn't formally invented until the official rules were written in Cambridge in 1848.
Even Mary Queen of Scots was a fan, and watched a game at Carlisle Castle in 1568.
That game was played for two hours, had 20 players and a little foul play... so it's not changed too much in five centuries.