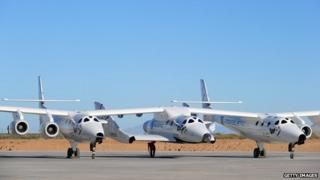 Getty Images
Ever fancied a trip into space? Well if you have a spare £127,000 you could soon have the chance!
British billionaire Sir Richard Branson has christened the world's first commercial spaceport.
The businessman behind the Virgin Galatic's WhiteKnightTwo, hopes he will be flying ordinary people in to space by 2013.
The two-and-half-hour flights will offer five minutes of weightlessness and spectacular views of Earth.
The spacecraft will reach speeds of up to 3000mph - that's about four times the speed of sound.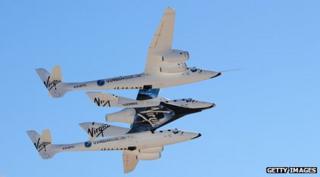 Getty Images
Around 150 people have already bought tickets for this once in a lifetime trip.
But Sir Richard said he and his children would be some of the first passengers to take the flight, to make sure he could could bring passengers home safely.
"We want to be sure we've really tested the craft through and through," he said.