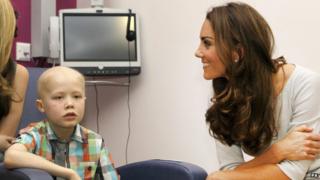 PA
A nine-year-old boy has received a hand-signed letter of support from the Duchess of Cambridge in his battle with cancer.
Fabian Bate met the Duchess and Prince William during the Royal couple's visit to the Royal Marsden hospital last month.
The Duchess said she was touched by Fabian's "strength of character".
"I will keep my fingers crossed that your health goes from strength to strength," she wrote.
"This must be a troubling time for you, your parents and your sisters, but I left the Royal Marsden assured by how incredibly talented, kind and clever the team at the hospital are," she added.
Fabian was diagnosed with leukaemia, a type of blood cancer, in 2006.
He spends almost all his time in hospital, keeping up with his school work through specialist teachers who visit him.
Fabian's father Darrell said they were incredibly surprised to receive the letter from the Duchess.
"We were very touched as she must do a lot of this stuff and to remember Fabian is very moving," he said.
Fabian is due to receive a bone marrow transplant in December.