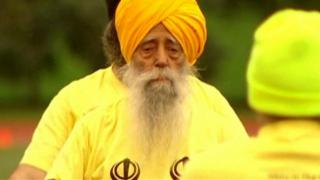 The 100-year-old record breaker
Fauja is the fastest man in the world... over the age of 100!
He may not look like Usain Bolt with his long beard and wispy grey hair, but Fauja has eight world records across distances ranging from 100m to 5000m.
But he doesn't stop there. Fauja has now even completed a marathon, finishing a recent event in Canada in over eight hours.
Fauja only started running when he was 89, but by the looks of this clip he could beat some people half his age!