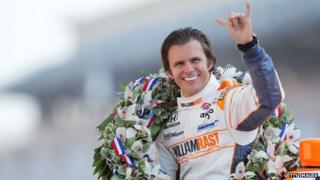 Lewis Hamilton and Jenson Button have paid tribute to a British racing driver killed in America.
Dan Wheldon an IndyCar driver, died after a horrific crash in Las Vegas.
The 33-year-old, who had won the famous Indy 500 race earlier this year, was killed in an accident involving 15 other drivers.
Jenson described him as a "true fighter", adding "I've so many good memories of racing with Dan. We've lost a legend, but also a great guy."
Like Formula 1, IndyCar racing is a high-speed and potentially dangerous sport.
Drivers race round a track at speeds of over 200mph, with often only a few inches separating cars.
Wheldon was one of Britain's most successful racing drivers, winning the the IndyCar championship in 2005 and the famous Indy 500 race in 2005 and 2011.
Lewis Hamilton said Wheldon was one of the most talented drivers in the world.
"As a British guy, who not only went over to the States but who twice won the Indy 500, he was an inspirational guy and someone that every racing driver looked up to with respect and admiration, " he said.