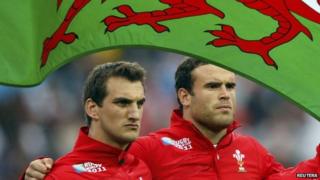 Reuters
Rugby World Cup fever has officially hit Cardiff, as thousands of fans are expected to watch Wales take on France.
65,000 supporters will be cheering on the home team at Cardiff's Millennium Stadium.
The stadium in Auckland in New Zealand only holds 60,000 people so Wales certainly has the advantage of numbers.
The atmosphere will be buzzing as the stadium has brought in an extra giant screen to watch the drama unfold.
The game is one of the biggest ever for Wales: it's been 24 years since they got to the semi-finals of a World Cup.
Welsh captain Sam Warburton said: "it is amazing to think the Millennium Stadium will be so crowded for a game we are playing thousands of miles away."
A Wales win would mean the first time they have reached the tournament's final.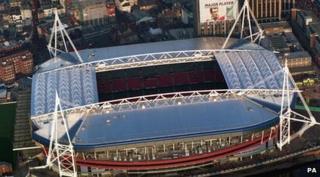 PA
Although all the tickets were given away for free, some are appearing for sale on the internet.
The game will also be shown an a big screen in Swansea's Castle Square.
Pob lwc i'r Cymry yn erbyn Ffrainc - which means, "Good luck to the Welsh against France!"