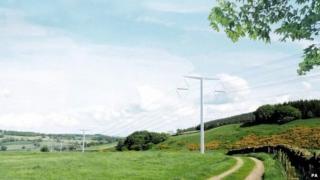 PA
Pylons are big and bold and stretch across the countryside but many people think they are ugly.
That could all change thanks to a new design that has scooped a £5,000 prize.
Designers had to come up with an image to replace the old "triangle" pylon that's been in use since the 1920s, although there is no promise to build the new version.
The T-shaped design beat 250 rivals to win the Royal Institute of British Architects contest.
Five runners-up were awarded £1,000 each.
More pylons could be needed to connect new wind, nuclear and hydroelectric plants.