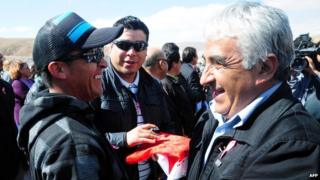 AFP
A group of Chilean miners have returned to the site where they were trapped for 69 days, a year after their rescue.
A ceremony was held at the pit, in the Atacama desert to celebrate their escape one year on.
About a billion people around the world watched the 22-hour rescue operation, in which the miners were winched one-by-one to safety.
Since then the 33 miners have gone on to do many different things, with one returning to his old job in the pit!
At the ceremony, Manuel Gonzalez, the first rescue worker to go down to free the miners, said everything had changed in the past year.
"But the same feeling of happiness is there, of having fulfilled the hope of the Chilean people and many around the world," he said.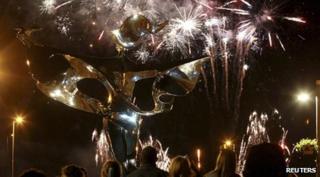 Reuters
But its not all been good news for the group of men.
At a similar event in August, some of the miners were pelted with fruit by protesters who felt it was wrong that they'd taken advantage of their celebrity status.
Many of the famous 33 are also still suffering from trauma, and half are unemployed.