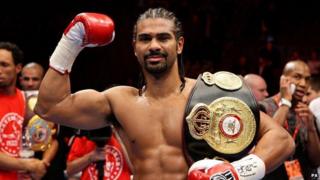 PA
British boxer David Haye has announced his retirement from the sport on his 31st birthday.
The former WBA heavyweight champion has always said he would never fight past the age of 30.
"It has been my intention to retire from boxing on this day ever since I first laced up my gloves as a skinny 10-year-old," Haye said.
Haye's last fight was against Wladimir Klitschko on 2 July 2011, when he lost his WBA title in Germany.
Haye, who was known to his fans as The Hayemaker, only lost two of his 27 professional fights.
But the defeat to Klitschko in June this year meant Haye lost his WBA title and with it the chance to win another three championship belts.
Haye claimed after that particular fight that a broken toe was the main reason for his defeat.
There had been rumours that Haye would have one last fight against Wladimir Klitschko's older brother Vitali, but today's announcement makes that very unlikely.