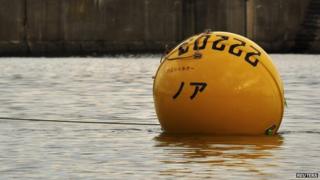 Reuters
A pod has been unveiled in Tokyo that could be used to save the lives of people caught in floods.
It's a flotation pod that could help people survive an earthquake and the giant waves that usually follow it.
The pod's been named Noah and its bright yellow colour really stands out which helps rescue teams searching the water.
The company decided to make them after the tsunami this year that killed around 20 thousand people.
They say that the pods could mean it's now possible for people to survive a tsunami, like the one seven months ago.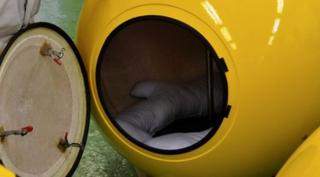 Reuters
To look at, Noah is about 1.2 metres tall and it's got one hatch, one glass window and two holes to let air in and any water out.
The company who've made it have used reinforced plastic which makes it's really light, but also stronger than steel.
The pod will be a safe place to go in a disaster because it keeps water out and the person inside afloat. It will also protect the person inside from being injured by floating debris.
So far, around 700 pods have already been ordered but it doesn't come cheap with a price of 288,000 japanese yen which in our money is around 2,381.50 pounds.