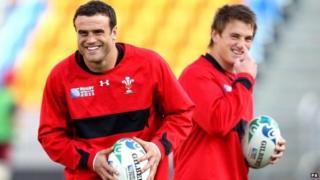 PA
The Welsh rugby union team is gearing up for one of the biggest games in its history on Saturday, the World Cup semi-final against France.
They're hoping they can book a place in their first ever World Cup final.
But we want to know how excited YOU are about the game?
If you're Welsh, are you a die-hard super fan? Will you be heading to the Millennium Stadium to watch it on the big screen?
And if you're not from Wales, which side will you be supporting?
Whatever YOU think, WE want to know!
Thanks for your comments. This chat page is now closed.
Your comments:
"We are all very excited about the rugby game on Saturday! Come on Wales!"
Rome Class, Chantry Primary School, Luton, England
"I'm really excited about the game, I'll definitely be watching. 'Dewch yn eich blaen bois!' - it's Welsh for 'Come on guys!'"
Owain, 11, Snowdonia, Wales
"I was born in Wales and have always supported them so my prediction is 21-16 to the Welsh dragons!"
Matty, 11, Sheffield, England
"Wales need to put out a good team and play like they did against Ireland. GO WALES!"
Angus, 10, Berkshire, England
"I am really excited to see Wales v France. I think Wales are going to win the match because they are a really good rugby team."
Lisa, 10, London, England