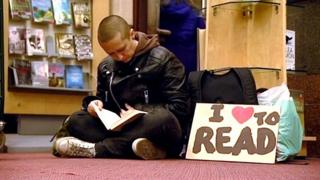 A campaign to save the country's libraries has had a setback - a judge has ruled that a London council can go ahead and close half of its libraries.
In April, Brent Council announced plans to shut six libraries to save money.
Campaigners took them to court, saying the decision was wrong as they hadn't properly thought about how it'd affect local people. But the judge disagreed.
The case is important as it's the first of its kind - so it could affect other campaigns.
Despite Thursday's ruling, campaigners in Brent have vowed to continue the fight.
Brent Council welcomed the decision, adding that they wanted to "push ahead with our exciting plans to improve Brent's library service".
Many councils are making cuts to services because they're getting less money to spend from the government.
In January, protestors in Milton Keynes emptied an entire library by borrowing all 16,000 books!
The fight to keep libraries open has several famous supporters, including Children's Laureate Julia Donaldson.
She said earlier this year that the threatened closures would be "very, very damaging, particularly to our children's future".