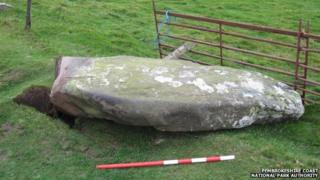 Other
A Bronze Age stone that's been standing for 4,000 years has been knocked over... by a reversing vehicle - oops!
The Bedd Morris stone is a well-known landmark on the roadside of a mountain in Pembrokeshire, Wales.
It weighs more than two tonnes and has been moved to a secret location since it fell over, to stop thieves from stealing it.
National park officials have said they're working to get it back up as soon as possible.
While the stone is out, archaeologists are going to have a dig at the site to try and work out exactly for how long the stone's stood there.
The stone is there to mark the border between parishes.
The name Morris comes from a legend of a bandit who lived nearby and used to rob people.