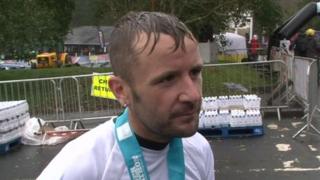 A marathon runner has had his medal taken away from him after he caught the bus to finish the last few miles of a race.
Rob Sloan was seen catching a bus about 20 miles into the marathon, before jumping off just before the finish.
He then hid behind a tree and popped out to run the last bit of the race, to cross the finish line in third place.
Another runner, Steve Cairns should have received the bronze medal but Rob pipped him to third place.
It turned out that Rob chose the worst person possible to rob of third place - because Steve is a police officer!
The constable quickly worked out that he'd been cheated and reported the matter to the race organisers.
He wrote on a marathon website: "I will get my prize, but he has stolen my glory and my moment on the podium."