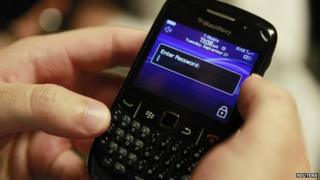 Reuters
Blackberry smartphone owners around the world have been left fuming after days of problems with their phones.
Crashes on the BlackBerry network started on Monday, and it's left millions unable to send emails, get on the web, or use BlackBerry Messenger.
The glitches have hit Europe, Asia, the Middle East and South America. Problems were reported in the US on Wednesday.
RIM, the company that owns BlackBerry, has said sorry and that it's working hard to get the network back to normal.
The first crash happened on Monday morning, but hours after RIM said things were fixed, users complained of another crash.
One tweeter wrote: "BlackBerry server down AGAIN?!!! You have got to be kidding me!!!!!"
Many use BlackBerries in their jobs because the email and web functions are known to be good.
Some users of BlackBerry Messenger have even said they can't live without it!