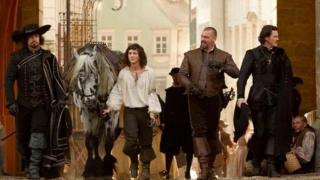 Other
If you like your movies to have lots of action and adventure then look no further than The Three Musketeers 3D.
When's it out?
12th October 2011.
The plot
It's a modern take on the famous story by the author Alexandre Dumas and tells the tale of the hot-headed young D'Artagnan who longs to be a Musketeer.
He travels to Paris to try and make it as a Musketeer, but not before picking a fight with the three legendary but down-on-their-luck Musketeers. They soon make up and unite to try and defeat a beautiful double agent and her nasty boss.
The stars
There's lots of swashbuckling action with Orlando Bloom, who plays the Duke of Buckingham, crossing swords with Logan Lerman in the role of D'Artagnan. You'll know him from the Percy Jackson Lightning Thief movie.
The Musketeers are played by British actors Matthew Macfadyen, Luke Evans and Ray Stevenson.
Hit or miss?
James Corden plays the Musketeers' faithful servant who is left to deliver the jokes but sadly there aren't any punchlines.
Luckily, the special effects make up for the lack of laughs and the spectacular battle between the English and French airships will have you on the edge of your seat.
The film is a 12A so you will need to take a responsible adult along to enjoy all the action.
NR rating: 3 out of 5