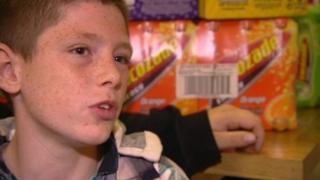 Schoolboy suspended for selling sweets
A schoolboy has been suspended from his healthy eating school for repeatedly selling sweets to classmates.
12-year-old Tommie Rose was making up to £200 a day selling chocolate and fizzy drinks in the playground at lunch and break times.
But his school weren't happy and suspended him for breaking their strict healthy eating rules.
Tommie has since promised to give the rest of his stock to the army "to bring to the homeless".
Tommie said he first got the idea from the BBC series The Apprentice.
He bought the sweets and drinks in bulk from discount stores and then sold them on for a profit.
"I've got a good business brain. I saw stuff was going for cheap, so I bought about £30 worth and then dotted it around mates' houses," he said.
Tommie's father Gary Rose said he had no idea his son was selling the snacks at first and was surprised when he found out how much he was making.
Tommie was grounded when his parents found out what he was doing, but his dad thinks the school went too far in suspending his son.
A spokesperson for the Oasis Academy in Salford said that while they support pupils' new businesses ideas, they must not break any of the school rules.