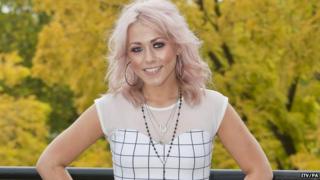 PA
X Factor reject Amelia Lily has described the twist that saw her and three other contestants eliminated at the weekend as "unfair and cruel".
Each of the judges had to pick one of their acts to leave and Kelly Rowland picked 16-year-old Amelia.
Amelia said: "It is literally the hardest thing you could possibly ever go through in your life.
"It is like having your heart ripped out."
But despite being gutted by her mentor's decision, Amelia said she doesn't blame the former Destiny's Child singer - especially as Kelly's promised to help Amelia with her music career.
"She said to me: 'I'm still your mentor, Amelia, even if you're not in the competition any more, you ring me, you text me, you email me whenever you want for advice and I'll always be here', and I really appreciate that from her."
Amelia is now planning on writing and recording her own songs, and even said Kelly had suggested there were already people in the music industry who want to work with her.
Amelia was dropped from the show at the weekend after her performance of Michael Jackson's Billy Jean. The other acts to be booted off were 2 Shoes, Jonjo Kerr and James Michael.