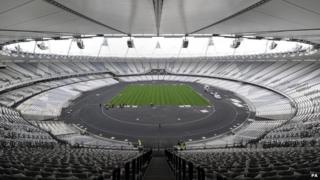 PA
A deal to let West Ham football club take over the Olympic stadium after the 2012 Games has collapsed.
The people who originally said they could move in have changed their minds.
They're said to be fed up with all the delays caused by a row between the Hammers and Tottenham over who should get the stadium.
Now the stadium will still be owned by the public and rented out instead. West Ham are expected to be among those bidding to be the new tenants.
Background
Tottenham and West Ham have been in and out of court over the past few months trying to get control of the Olympic stadium, as they both want to make it their new home ground.
Earlier this year, the company dealing with what happens after the Games gave its support to the West ham bid.
But Tottenham challenged that decision as they felt it was unfair.