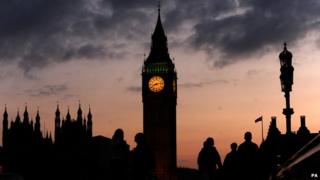 PA
Big Ben is leaning to one side and may eventually become unstable.
But don't panic just yet, as that's not likely to happen for a few thousand years.
The lean was discovered by transport officials when they began looking in to extending the Jubilee Line on the London Underground.
Experts are unsure what is causing the lean, but one suggestion is that the clay the tower is built on is drying out.
The tower currently leans slightly towards the north-west, putting it out of line by about 0.5m at its highest point.
If nothing is done to stop Big Ben from moving, the clock will crash to the floor - but not for another 5000 years!