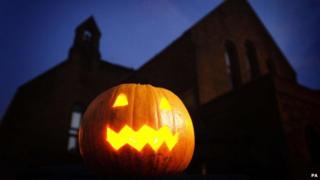 PA
The temperature's dropped and the leaves are falling, so it can only mean one thing - Hallowe'en is on its way!
But this year's fright night might not be as spooky as you'd like it to be - because autumn's crop of pumpkins look tiny rather than terrifying.
Bad weather throughout June and July has meant the average size of the big orange fruit has dropped from 5-7 kilos, down to 3-4 kilos.
The cold nights in June meant there wasn't enough moisture for them.
To make matters worse, the dull July weather made it even harder for the pumpkins to get enough goodness in their roots.
And all of that may well lead to a much smaller, less scary selection of pumpkins in your windows this Hallowe'en.