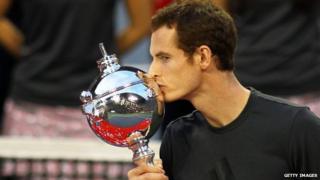 Getty Images
Tennis ace Andy Murray has won the Japan Open after beating Rafa Nadal.
Andy lost the first set 6-3, but that spurred him on and he won the next two sets - taking the final one 6-0.
He is the British number one, and is ranked fourth in the world at the moment, just behind Roger Federer.
Andy's lost to Rafa in their last five matches, but he said that: "the third set was some of the best I've played against him".
It's been a really good month for Andy as he also won the Thailand Open last week.
After his defeat, Rafa said: "Andy played unbelievable. He deserves the title."
In Japan, Andy's winning streak continued as he went on to win the doubles tournament with his older brother, Jamie.