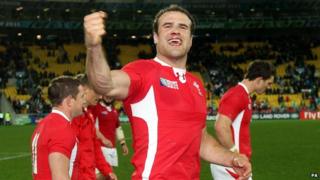 PA
Wales are celebrating after their 22-10 victory over Ireland in Wellington on Saturday.
The Welsh are guaranteed their most successful World Cup since the first tournament began 24 years ago and are bidding to reach their first final.
They are hoping Rhys Priestland and Luke Charteris, who both suffered shoulder knocks, will be fit for next Saturday's semi-final.
They'll play France, who beat England to send them home on the same day.
England's World Cup dreams were shattered after they came under attack from a strong French side on Saturday and were beaten 12-19.
But Martin Johnson's side didn't play anywhere near their best, and the French deserved the win.
And it went from bad to worse: after the match, centre Manu Tuilagi was fined £3,000 by the Rugby Football Union after being told off by police in Auckland for jumping from a ferry into the harbour.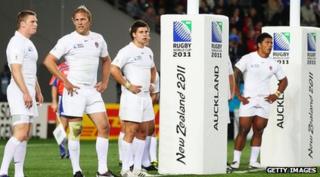 Getty Images
The English team have been making more news off the pitch than on it, because of some of the players' bad behaviour.
Some were criticised for going out late at night in bars, and three players had to apologise after being rude to a member of hotel staff. Then, they had two coaches suspended after they broke the rules, swapping balls during a game.
In the other matches, Australia came out 11-9 winners against South Africa, even though they hardly had any posession during the match; and New Zealand recovered from a really nervous first half performance to beat Argentina 33-10.
Looking ahead to the weekend, Wales face France on Saturday and Australia will play their old rivals New Zealand on Sunday.