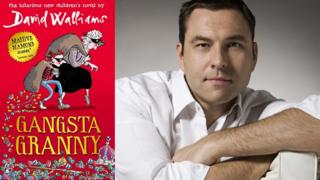 Other
David Walliams is one of Britain's funniest comedians, he's raised millions of pounds for charity AND he's written three best-selling children's books.
He's hoping his latest book, Gangsta Granny, will also be a big hit, but is it any good?
The story
Eleven-year-old Ben hates having to stay at his granny's house every Friday. And who wouldn't when all she wants to do is play Scrabble and eat cabbage soup?
But that's before Ben finds out she's an international jewel thief. Can he help her pull off one final daring heist... stealing the crown jewels?
Highlights
It's very funny and anyone who's had to spend time with an adult when they REALLY don't want to, will totally get where Ben's coming from!
The changes in the relationship between Ben and his gran are also really lovely, without being too mushy.
Any weak bits?
Not really. There are some sad bits we weren't expecting, but it's fun to read and it's really easy to get caught up in the adventures of all the characters.
Newsround rating: 4 out of 5