Move over, Justin Bieber! A rock group made up of six British kids have become online stars, after one of their videos got over 800,000 views in under a week!
The Mini Band's six members are all aged between eight and 10.
Their performance of Metallica song Enter Sandman at a festival in Bucklebury, Berkshire, was posted on YouTube on Sunday.
Since then it's attracted attention from across the world. Guitarist Kieran told Newsround: "It feels great."
Kieran's mum said the video's had responses from countries as far away as Brazil, Australia, and even Nepal!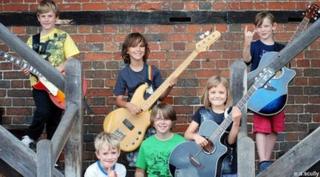 Other
The Mini Band were put together this spring by guitar teacher Leo Westby, who also runs a rock school in Berkshire.
The group only did their first show in June this year.
Kieran recalled: "On the first performance it was a bit shaky because it was The Mini Band's first ever time. We were on a gigantic stage with 300 people watching.
"After the gig I felt really bouncy and really excited. At the time I didn't know there were more gigs coming up."
He has big hopes for the future: "I want the band to stay together, keep on doing songs, keep on touring Berkshire and keep on playing.
"Playing the guitar is the most special thing."
Video courtesy of Leo Westby