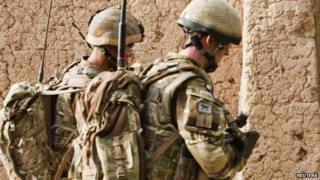 Reuters
The UK has about 5,200 troops remaining in Afghanistan - from a peak number of about 10,000 in back in 2011.
Most of the troops that are left are based in the south of the country.
Combat operations are due to end in Afghanistan on 31 December 2014 after then the responsibility will be transferred to Afghan forces.
But the government say about 100 British troops will stay to work as mentors to Afghan soldiers at the Afghan National Army Officer Academy.
The British forces are part of the Nato-led International Security Assistance Force (Nato-ISAF) mission, trying to make the country more stable.