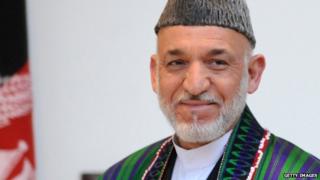 Getty Images
Hamid Karzai is the President of Afghanistan. He was first elected by the Afghan people in October 2004.
Winning that election made him president for five years. In 2009 he had to stand for election again.
On 2 November 2009 - after another election - he was declared the President of Afghanistan for a second time, for another five years.
However, the way it all happened was very complicated.
That election was held on 20 August 2009. There was lots of violence in Afghanistan at the time the election was held, and some experts said the voting and counting wasn't fair.
It was decided that some of the votes cast in the election couldn't be counted, so they were disqualified.
That meant neither candidate had enough votes to be called a clear winner. So a new election was set up for November, between Mr Karzai and his biggest rival Abdullah Abdullah.
However, on 1 November Mr Abdullah said he didn't want to stand anymore.
He wanted changes made to the election process before standing again, but when those changes didn't happen he decided he didn't want to stand.
That meant Mr Karzai was re-elected as the country's president.