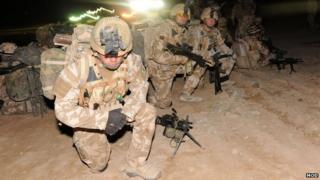 Other
British armed forces in Afghanistan are part of the Nato-led International Security Assistance Force, which is normally called Nato-ISAF.
The British soldiers work with troops from many other countries.
Nato-ISAF's job is to help the new government by doing things like:
Training the Afghan armed forces and police.

Guarding important buildings.

In parts of the country they also patrol the street in the way that the police do in Britain.

Fighting armed groups including the Taliban and al-Qaeda.