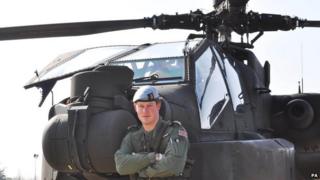 PA
Prince Harry, a captain in the Army Corps, has arrived in California to start his final round of helicopter training.
He's already been taught to fly an Apache helicopter but now he's starting a gruelling eight-week training course.
He will have to pretend he's flying the aircraft in the hot, dusty and dangerous conditions of Afghanistan.
The prince will have to complete lots of different tasks that include the perfect dust landing.
Completing the course will give Harry the best chance of returning to the front line, something he wants to do.
The Prince won't be getting any special treatment though: Captain Devon Jones, the US commanding officer at the facility, said: "He will be Captain Wales when he is here.
"He will be treated like any other British pilot."