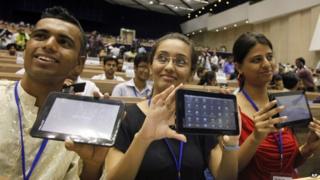 AP
A new super-cheap touchscreen computer, costing about £23, has been unveiled in India.
The Aakash (meaning "sky") tablet is aimed at students in small towns and villages who can't normally afford a computer or internet access.
Some people think it's too early to tell how popular they'll be, as cheap tablets in the past have turned out to be very slow.
Lots of students are now testing the Aakash out to see if it's any good.
The £23 price tag is a cheaper rate for students. For other people, the plan is to start selling a version for around £38 next year.
Its makers reckon it's the cheapest touchscreen tablet in the world.