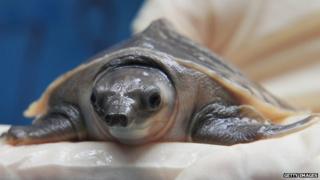 Getty Images
More than 600 endangered pig-nosed turtles have been rescued in Hong Kong.
The animals were being smuggled into the country illegally from Indonesia and they are now being returned to their native home.
The baby reptiles get their name from their fleshy snout-like noses and are endangered because there's a high demand for their eggs and meat.
The group was the largest amount of pig-nosed turtles ever to be rescued in China.
The animals are also kept as pets in Hong Kong, but they are on a list of endangered species so they can't be sent abroad without special permission.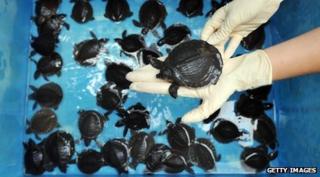 Getty Images
Officials think the baby reptiles were caught in the wild as they were only a few days old when they were rescued.
They have been kept at a privately run conservation farm, but now they're ready to go home.
The turtles will released into a national park in Merauke, which is in the southeastern coast of Papua in Indonesia.