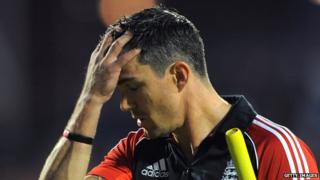 Getty Images
England one-day captain Alastair Cook has backed star batsman Kevin Pietersen to return to form during the team's tour of India.
Pietersen has not hit a one-day century for nearly three years and was even left out of the squad for three games earlier this summer.
But Cook says he's glad to have Pietersen back on the team.
"He has had a tough 12-18 months with his form, but its great to have someone as good as Kev back," Cook said.
The England team are touring India in October, playing five one-day internationals and one Twenty20 match.
But even though England beat India in all forms of the game earlier this year, Cook thinks playing away from home will be much harder.
"I certainly think we can beat India but it will be incredibly tough. We need everyone to be playing very well," he said.
"We all know what the one-day crowds are like over there. They love their cricket."