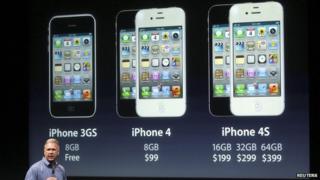 Reuters
Many tech fans expecting the new iPhone 5 have been left disappointed by Apple's latest gadget.
The company presented the iPhone 4S on Tuesday, a refreshed version of the iPhone 4.
It looks pretty much like the old iPhone 4, but with some new features, such as a better camera and longer battery life.
There's also Siri, a program that lets you do things like send messages and ask questions by talking to the phone.
The iPhone 4S is set to go on sale on 14 October, and it will run on a new operating system called iOS5.
Luke Peters, editor of gadget mag T3, said: "Some people were looking for a brand new phone and they haven't got that today, so some will be disappointed.
"But with the update to iOS5 and Siri that could be enough to sway people to make the investment."