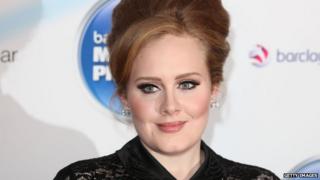 Getty Images
Poor Adele - she's had to cancel her upcoming US tour because of more problems with her voice.
The singer said she was "heartbroken and worried" at having to pull out of 10 dates, due to a vocal cord haemorrhage.
She said: "I have absolutely no choice but to recuperate properly and fully, or I risk damaging my voice forever."
But she reassured her fans: "I will be back and I'm gonna smash the ball out the park once I'm touring again."
She added: "I apologise from the bottom of my heart."
Adele explained her haemorrhage as being like "a black eye on the vocal cord".
The Brit Award winner's voice trouble began in January, and she's already been forced to postpone several dates in America and the UK this year.
Adele had been due to kick off her US tour in New Jersey on Friday.