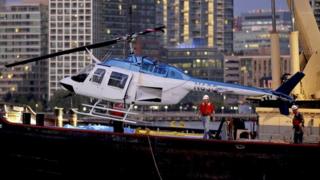 AP
A helicopter with five people on board has crashed into a river in New York City.
One British woman was killed when the private aircraft plunged into East River. Two other women are in a critical condition in hospital.
At least seven boats joined divers in the rescue effort on Tuesday afternoon.
It's not yet clear what caused the crash, but witnesses say it spun out of control after take-off.
It's thought the helicopter was upside down when it plunged into the water.