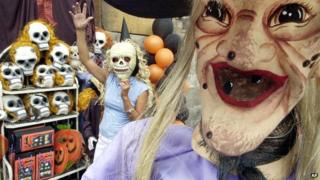 AP
If you are going out trick or treating you probably dress up in scary costumes and knock on doors hoping to be given sweets or money - the treat.
If you don't get anything or it's not a great treat, such as a lump of coal, children sometimes may play a joke on the people living in the house.
But many people think this is unkind and unfair.
Some people think this tradition started with the Celts, who believed that on Halloween - that they used to call Samhaim - some ghosts tried to return to their old homes.
They tried to get the visiting ghosts in a good mood by offering them nice food.
They thought if the ghosts were angry they would mess up the farms and frighten the animals.
But others believe trick or treating comes from a tradition where people would go door-to-door asking for food or "soul cakes".