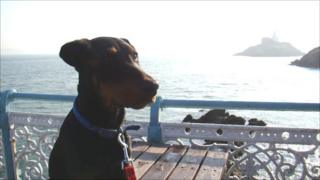 A dog who spotted a swimmer in trouble managed to raise the alarm by barking.
A Doberman called Wilson was walking on a beach, near Swansea, with his owner when he sprung into action.
The swimmer was signalling for help after becoming caught in a rip current and Wilson ran into the sea to help.
Wilson's owner Richard Absalom, who volunteers as a Royal National Lifeboat Institution (RNLI) lifeboat crew member, went to a nearby station and launched a boat to rescue the man.
Richard said he wouldn't have seen the swimmer if it wasn't for Wilson.
"The beach was quite busy and I was not really paying much attention to what was going on," he said.
"Wilson does not like the sea but he ran to the water's edge.
"He never normally goes in the sea but his paws were in the water and he was fixed on the swimmer, barking.
"It's not like him as he does not normally bark."