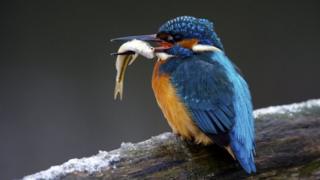 Other
Good news for bird lovers - kingfishers look like they're bouncing back, after being hit by two cold winters.
In a river wildlife survey of around 1,000 people, almost two-thirds said they spotted them.
"Kingfishers are one of the species most vulnerable when temperatures plunge," said the RSPB's Rob Cunningham.
"But our survey tallies with other reports showing that kingfishers are bouncing back."
Mallard ducks were the creatures most commonly spotted in the survey, with four out of five people saying they'd seen them.