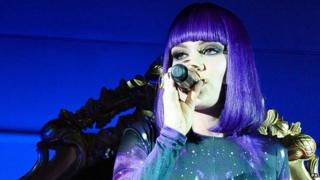 PA
Jessie J says she wants to have her head shaved live on TV to raise a million pounds for charity.
She's never been shy about shocking the pop world, but she says she now wants to raise a million every year by doing something unexpected.
She had the idea after visiting sick children in hospital when she was recovering from her broken foot.
The Price Tag singer made the visits in secret because she didn't want people to think she was showing off.
But if her head-shaving stunt goes ahead, she wants it to be on live TV which could mean millions of people watching her.
Jessie told Radio 1's Newsbeat it would be a good way to change her trademark bob hairstyle.
She said: "I want to get rid of that. I just want to make money and think it's going to be an amazing way to do it."
Jessie has been nominated for five of this year's Mobo Awards - best album, newcomer, UK act, video and song. She'll perform at the awards on Wednesday night.