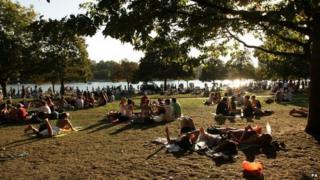 PA
You may have been out enjoying the sun over the weekend but don't get too used to it!
Britain's record-breaking heatwave looks set to finish and some reports say it could be snow by the end of the week!
Temperatures soared on Saturday and Sunday with lots of you packing out parks and beaches.
It's now officially the hottest start to an October ever.
It'll be a different story this week though, with lots of Britain expected to be hit with rain and strong winds.