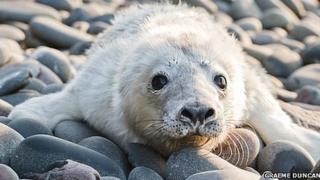 Other
This week's heatwave has been a nice surprise - and it seems it could also be good news for grey seals.
Experts say the unusually warm Autumn could help pups which often die at this time of year due to bad weather.
Atlantic grey seals live in the Farne Islands in the North Sea. Hundreds of pups are born there every autumn.
When they are three to four weeks old, the pups are abandoned by their mothers and have to fend for themselves.
In the last few years many have died, either by being washed away or by not surviving the cold Autumn weather.
But it's hoped the heatwave will help more pups to survive.
It's good news for the first seal of the season, born this week. Experts already think the warm weather will give thee pup a great start to life.
Around 30 more pups are due to be born over the next few weeks.