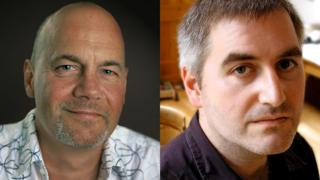 Other
Hold on to your warrior helmets, we gave you the chance to quiz Muddle Earth creators, author Paul Stewart and illustrator Chris Riddell, and we got loads of questions.
The award-winning duo are behind the adventures of Joe Jefferson, the schoolboy who found himself transformed into Joe the Barbarian and summoned to Muddle Earth.
Joe gets up to all sorts with the help of his wellies of power and woolly gloves of determination... he's even got his own animated series on CBBC!
So here is a selection of your questions that we put to Paul and Chris, along with their answers:
"Do you base any of the characters on yourself or people you know?"
Jacques, 9, Salford, England
Paul and Chris say: Yes, a lot, but never just one person. That's the way to lose friends - particularly if they're a baddie in the book! The best thing to do is to take maybe three people - maybe someone from school, someone you saw on the bus, a family relative... - then mix them together to make a new character. Then, when the character is in the story, they start to take on a personality all of their own!
"What inspires you?"
Ishbel, 10, Scotland
Paul and Chris say: The desire to tell good stories. Both of us write books that we know we would have enjoyed reading when we were kids.
"How did you get the idea for Veronica the Budgie?"
Molly, 12, Southampton, England
Paul and Chris say: As you know, Molly, all good witches and wizards had familiars. We liked the idea of Randalf's familiar being bossy and difficult, but also quite harmless, and a budgie seemed the perfect choice. Many years ago Paul worked with a very bossy woman called Veronica, and so that became the budgie's name. Hopefully, she will never find out!
"Do you have any plans for making any more TV series for Muddle Earth?"
Jack, 10, Hertfordshire, England
Paul and Chris say: We would love there to be a new series of Muddle Earth TV. We enjoyed both the Jackanory episodes with all the clever computer generated characters. We're keeping our fingers crossed.
"Where did the Muddle Earth idea come from?"
Sharon, 11, West Midlands, England and Najma, 9, Manchester, England
Paul and Chris say: Like so many of the books that we do, the idea came from the map of Muddle Earth that Chris drew in his sketchbook. He named the places like Goblintown and Trollbridge, Elfwood and the Perfumed Bog, and it provided us with a wonderful setting for the madcap adventures that Joe has in Muddle Earth.
"Why have you chosen such strange names for things like 'wellies of power' and 'woolly gloves of determination'?"
Amy, 11, Hertford, England
Paul and Chris say: Because they made us laugh! Lots of high-fantasy novels have wonderful sounding objects like 'swords of destiny' and 'chalices of everlasting life'. The objects in Muddle Earth are a little more ordinary. We love the idea of wellies and woolly gloves having fantastic powers. I am wearing my slippers of valour at this very moment!
"I love Muddle Earth it's really funny but I've always wondered how do you come up with all the brilliant jokes?
P.S. I loved Corby flood, Hugo pepper and Fergus Crane they were such a great read :)"
Alanah, 12, Leicestershire, England
Paul and Chris say: Thanks for that, Alanah. It's really good to hear that you enjoy reading our books. We wrote Muddle Earth together. If one of us makes the other one laugh, then the joke finds its way into the books. If not, it gets scrapped - never to be repeated again!
Thank you all for your wonderful questions for Paul and Chris.