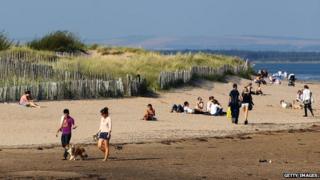 Getty Images
It's almost October but in lots of places in the UK the weather has become pretty hot.
What are you getting up to in the warm weather? How are you enjoying yourself? Maybe you've been at the park or the beach?
Or perhaps it's too hot for you and you're staying indoors?
This chat page is now closed but you can still read a selection of the best comments below.
Your Comments:
"I really enjoyed this hot weather and I went out with my parents. I want it to be like this everyday!"
Kesha, 14, London, England
"Yesterday I played in my pool with my little sister and my friends because my mum hadn't put the pool away yet! But today it's raining!"
Monica, 8, Merseyside, England
"My family and I spent a lovely day out in Arundel which is outside of London. We didn't have to come home until 8pm because it was getting cold and we didn't want to miss The X Factor!"
Imaan, 11, London, England
"Jet skiing and ice pops! Great heatwave so far! Lets hope it lasts!"
Abbie, 12, Cornwall, England
"I've been stuck inside ill all week, which was very boring!"
Emily-Melissa, 12, Hampshire, England
"We have just been on a nature walk in our school garden. It's very sunny and some of us had our sun hats on!"
Larkfields F2 Class, Nottingham, England
"I have been ill this week so I have not been going to the beach. But when I'm well enough to go back to school I think that it will rain."
Lois, 10, Newcastle, England
"In the hot weather I have been going for bike rides and tomorrow I will be doing a sponsored walk."
Imogen, 8, Derby, England
"My sister and I had a huge water fight in the street and all our neighbours joined in, and we then had ice lollies and threw ice down each other's backs!"
Sarah, 13, Cardiff, Wales
"In my school it's that hot here the teachers have started to use the outdoor classrooms to teach in."
Beth, 13, Stoke-on-Trent, England
"I'm enjoying the weather but it was too hot yesterday, but it's better than having a wet playtime."
Georgia, 10, Manchester, England
"I'm enjoying the sunshine and having a BBQ with my best friend tomorrow."
Nicole, 7, Oxfordshire, England
"At the weekend and school holidays, I just stay indoors because it's too hot. I only go outside if I need to."
Claudia, 14, Indonesia
"I love the hot weather! I've been putting my summer clothes on and chilling in the sun!"
Simran, 9, Essex, England
"I'm having fun in the sun and going down to the beach after school! Who would have thought that at the end of September people would be down at the beach!?"
Georgia, 11, Geneva, Switzerland
"I'm wearing shorts!"
Elena, 13, La Hulpe, Belgium