The London 2012 Olympics are less than a year away and one long jumper has been warming up by leaping over cars!
England champion JJ Jegede managed to complete the six-metre jump over the three Minis.
A special track and sandpit were built in front of Tower Bridge in London for the stunt.
JJ said: "When I saw it, it looked immense, it looked like crazy. But it's just about blocking it out, trusting that I can do it.
"Because that's what I do every day."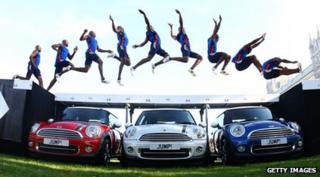 Getty Images
JJ is busy preparing for the Olympics and he's hoping to beat his personal best of 8.04 metres.
"I just want to really train hard this winter, come back out and just really I want to try and win a medal," he said.
"That's the aim, in front of my home crowd. That'll be great."