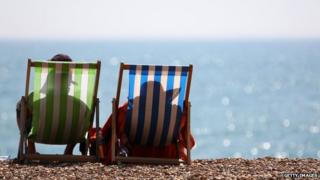 Getty Images
Sun cream at the ready? It looks like it's going to get pretty hot in some parts of the country over the next few days.
On Friday the temperature in London is set to reach 28C.
Sheffield and Birmingham will also get very warm, up to ten degrees higher than what's normal for autumn.
Unusually hot weather at this time of year is called an Indian Summer.
The good weather is expected to last a few days.
But despite the sunshine, weather forecasters have warned that snow might arrive in the UK as early as October.