Michael Jackson's doctor has gone on trial in America, charged with causing the singer's death.
Dr Conrad Murray, who was with the superstar the night he died, is accused of giving him too much of the sleeping medicine, which killed him.
Dr Murray denies the charge and says that Michael took the medicine himself.
The popstar died in June 2009 while rehearsing for a number of big comeback concerts in London.
Hundreds of Jackson fans gathered outside the court in the city of Los Angeles as the trial began.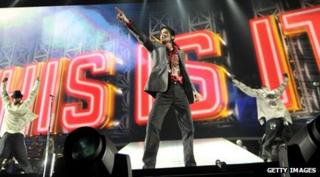 Getty Images
The court was played an answerphone message that the singer is believed to have left on the doctor's phone, shortly before his death.
In the recording, Michael badly slurs his words while trying to talk about the concerts.
The lawyer accusing Dr Murray says he should have realised the star shouldn't be given any more of the drug.
Dr Murray could face four years in prison if he's found guilty. The trial is expected to last for about five weeks.